Anurla


Vital Statistics
Full Name
Anurla
Gender
Male
Race
Incubus
Signature Item
Anurla's Amulet (© Gaia Online)
Story
Role
Miscellaneous Character
First Appeared In
Kuroi's Story:

Chapter 8: Alruna and Anurla

Last Appeared In
Kuroi's Story:

Chapter 9: Death of Furies

(The Saga Characters)

V

•

T

•

E
Anurla (© Gaia Online) is an incubus, together with Alruna (© Gaia Online), who lives in a region of the Bottomless Pit called House of Lust. He is the leader of the incubi and is the watcher for The House of Lust. His powers include great strength, great charm for seduction, and mind control. Both of them, Anurla and Alruna, think that Lucifer is wrong, especially on how he treats humans.
It also says in
The Saga
that Anurla and Alruna are the only incubus and succubus that survived from Lucifer's mind control, which controlled every succubi and incubi, resulting to a war of humans against the united forces of succubi and incubi. The family of Mitsuki is stuck in the middle of the fight and Alruna and Anurla are the only ones that helped them get out of their situation.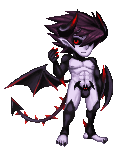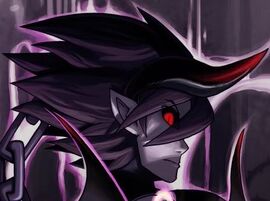 Outside and Inside
Outside, Anurla is a charming male with a attracting body. He exercises every morning (if there's morning in Hell) to keep his body on shape. He likes watching porno and masturbates every night to get ready for his work. At night, he is a violent partner in sexual intercourse, but still he hates his partner to be hurt so much or bleed because of friction.
Inside, Anurla still has a soft heart with some of his violent attitudes. Like Alruna, they're very close to humans, that's why he doesn't want them to be hurt so badly during the intercourse. He also hates being respectful, he never respects his masters, but he still grants what do they wish for.
Work
Anurla's work is to have sexual intercourse with women at night to get them ready for the semen that Alruna gave to him to pass to another girl. This event possibly explains why there are single parents. His secondary work is to maintain the House of Lust standing and keep Cleopatra away from it as possible as the incubi can. They can also have anal sex with homosexuals, but unlike to women, this intercourse is much more violent.
See Also
Community content is available under
CC-BY-SA
unless otherwise noted.